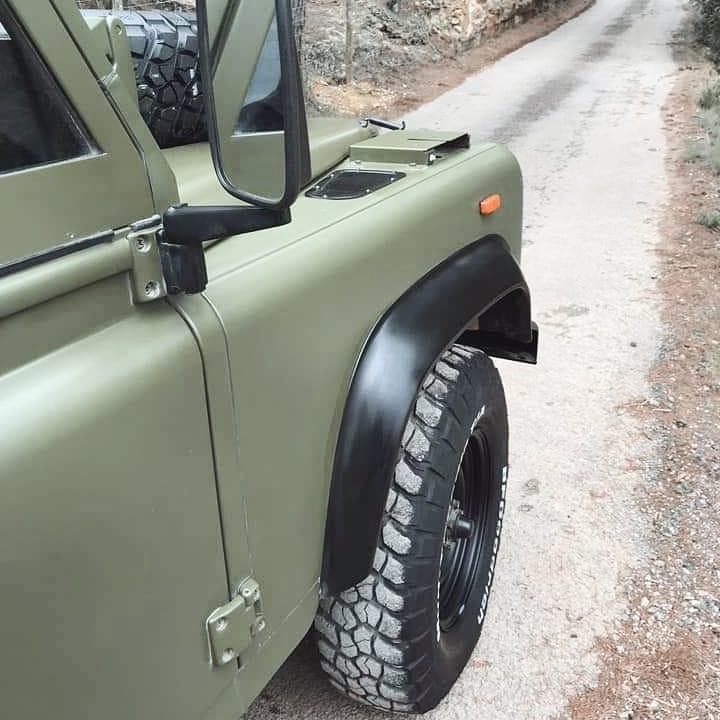 Garage for any type of Classic Car… Citroen 2CV / Dyane, Renault 4, Land Rover Defender, and more.
Our lifelong experience in vehicle mechanics and bodywork for both our own range of rental 2CV's and Defenders, and our own collection of personal cars, among which include various A-type models, Renault 4's, Land Cruisers and much more, means we have become experts in our trade and classic cars.
There is no single default or problem we haven't coped with. We contract each assignment with a realistic view on all the costs and compile an adapted and bespoke quotation specifically to you and the needs of your car.
You can trust us with your beloved classic car for periodic maintenance, specific reparations, partial and complete restorations, upgrading and detailing all to suit your personal budget. Furthermore, we offer and fit new or used tires, and are ready to assist you with the periodical technical examination.
Feel welcome for a quick checkup or an obligation-free quote. If you make an appointment through WhatsApp or by telephone on the number +34 (0) 619 25 11 06, we'll strive to send you a personalised quote on the same day.
New build Mehari and 2CV
A completely new classic car? Ducks United can do it! We are building new Méharis and 2CV's with a variety of options and possibilities. Starting with nothing but brand new parts, we can build your dream car.
Thanks to our strong knowledge and passion, and our lifelong experience, we know perfectly what's needed to create a masterpiece, with original and qualitative parts.
Cars for sale
We aim to always have several cars available for sale at any one time, at several price ranges to suit everyone's budget. Feel free to stop by and give them a try, we guarantee you will be convinced by one of our specialist motors, sooner than you think!
Our cars are sold with full maintenance, technical examination certificate and customized guarantees.
Car import to Spain
Have you moved to Ibiza and wish to bring your classic car? Or did you buy a classic car abroad and need Spanish license plates? No problem, we can help you to import your 'historical' car into Spain. You can always contact us for more information on this matter.
Electric 2CV
Soon we will have the first electric powered 2CV in Ibiza! At the moment, the project is still in a test phase, but shortly an electric 2CV will be available to you. Exclusively at Ducks United.
Car Rentals Ibiza 
Did you know we also rent our classic cars for short-term stays. Ibiza is known for its hippy vibe and driving in your 2CV with great music in the background whilst exploring the island will be a memory you will long treasure.
Our car rental company offers you way more than just a car hire. It comes complete with the duck lifestyle. All cars are fitted with mp3/ ipod connections and a 'ducks map'. This gives you the inside information on all the best restaurants and beaches in Ibiza. We will of course keep you in " the know" about all the talked about hotspots of the moment!
For renting a Landrover Defender, take a look here https://ibiza.ducksunited.com/4×4-rental-ibiza
Official Laboratory of Historical Vehicle
Cataloging Reduced Technical Data Sheets
Individual Approvals Official Laboratory to
Catalogate Classic Cars
Cerficate of Conformity
Individual Approval Number Type